Sometimes I get so used to walking around in the dark , I feel like I don't really need to turn on the light to see. It's only when I can't find what I'm looking for that I go and flip the switch.
In these moments, I realize just how much I wasn't able to clearly see my environment. Even though I always feel like I know my way around.
Although I can manage, it's certainly no way to exist.
Living in Low Light Conditions
By low light, I mean circumstances in which Jesus isn't really a part of. But, because we get used to navigating in that way, it can start to feel natural.
The Bible tells us that God's word is a lamp to our feet. But, when we spend our days neglecting to read our Bibles, or forgetting what we have read, the day (and light) can get away from us.
What's Lightning You Way?
Walking in darkness is a lot easier and more common than we may think. Unfortunately, political parties, social media, magazine articles, and the news are what guide so many Christians.
And, as we get used to a certain level of darkness, our spiritual eyes just adjust. Unfortunately, so do our comfort levels. Before we know it, we can find ourselves moving closer toward somewhere we don't want to be. And because there is nothing to light our way, we don't recognize how far we have veered off our path.
Thankfully, we serve a God whose illuminating Word is ever-present and all we have to do is reach out and up.
Then spake Jesus again unto them, saying, I am the light of the world: he that followeth me shall not walk in darkness, but shall have the light of life.

John 8:12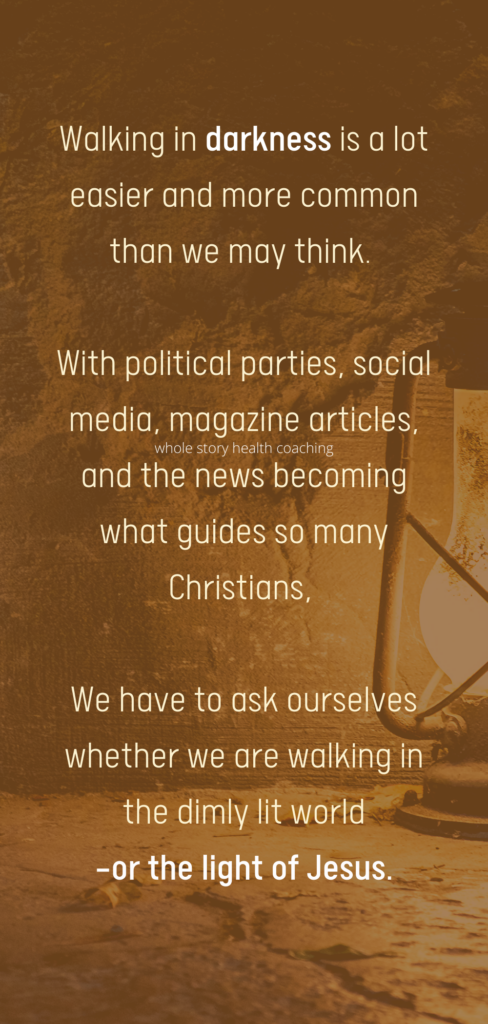 Prayer
Father, I thank you that your word is a guiding light in a dark world—and a lamp to our feet.
I am grateful that I have your Word to guide my thoughts and decisions. Father shine into my spirit and enlighten any darkness that is found within me. Let me continue to seek you and become a light to those around me.
Next Steps
Give thanks to God for providing light for the day ahead.

Read

Psalm 119

Ask God to give you knowledge, wisdom, and understanding as you read.

Allow your spiritual eyes to readjust to the light.